Dyes and wax have now been applied.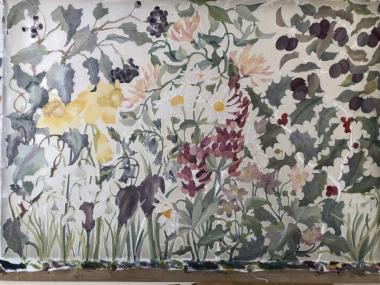 Dyes and Wax have now been applied several times.
This commissioned painting is now at a stage where dyes and wax have been applied several times.
In order to seperate out the different colours of the painting molten wax is applied using either a wax pen(tjanting) or a brush.The wax resist impregnates the cotton fabric which means that different colours cannot bleed one in to the other.
The next stage is to remove the painting from the stretcher and apply the darkest colour.This is done by pushing the whole painting through a bowl of dye.