Batik is a way to decorate fabric,such as Silk or Cotton with coloured dyes.
The technique makes it possible to have different coloured areas of dye next to each other in a design.To achieve this hot molten wax is used. Having dyed an area of fabric it is possible to "resist" the intrusion of other dyes by waxing out the first area of coloured dye.
In simple terms it is possible to go on repeating this procedure until the fabric is completely dyed and all the dyes have been "resisted" by using the molten wax.
Beyond this initial procedure there are many additional techniques which can be applied to create a piece of Batik work.
In the example of the bowl of fruit shown here you will see how different colours can sit side by side without "bleeding" one into the other.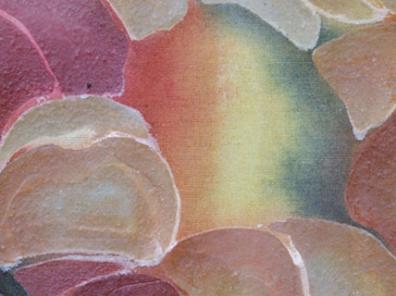 In the other example shown, (below the bowl of fruit) things are at much earlier stage The image ("Bird of Paradise Flower" - Strelitzia Reginae) has been drawn in pencil onto the fabric (in this case cotton) the background has been waxed out (the resist) and the dyes,lightest in tone,have been applied to areas of the flower heads and some of the foliage.
These areas of colour will be "resisted" next using molten wax.The design will then procede with the addition of dyes that are progressively darker in tone.
After each stage of dyeing the wax resist is applied.
Eventually the whole surface area of the fabric will be covered by the wax resist apart from some thin lines which are left without the"resist" so that they will receive the darkest colour dye.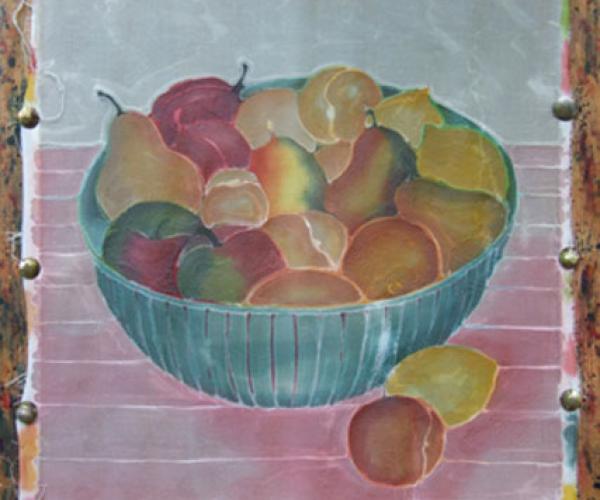 The last and darkest colour is applied not with a brush but by removing the fabric from the wooden stretcher and then immersing the whole piece of fabric in a bowl containing the final and darkest coloured dye.By pushing the fabric into the bowl of dye random cracks are created in the wax resist allowing the darkest dye to penetrate the fabric. This creates the characteristic "crackle" over the whole of the design.Also the thin lines (see above in the detail photograph of "Bowl of Fruit") of wax free fabric take up the dye at this stage. When the final dye has dried the wax is removed,in this case by sandwiching the fabric between sheets of paper then applying a hot iron which melts the wax which is absorbed by the paper.