New work for h.Art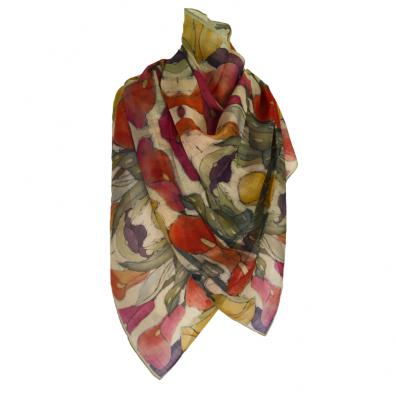 Our Calla Lily Wool Fino Shawl - just the thing as Autumn approaches.
Since returning from our adventure in Canada and the USA we have been very busy preparing for Herefordshire Art week aka h.Art
We have received a delivery of our Wool Fino Shawls.Generously sized ( Calla Lily measures 196 cms x 64 cms) accessories just in time for a seasonal change in temperature.
This year we shall be exhibiting at two h.Art venues.We are very happy to be returning to Stockton Bury Gardens (a mile or two north of Leominster HR6 0HB) venue number 125 in the h.Art catalogue.Our other venue is St.Mary Magdalene Church, Church Street,Leintwardine SY7 0LD venue number 120.h.Art starts on Friday September 1st and continues until Sunday September 10th.
At both venues we shall have original Batik paintings,greeting cards,prints and scarves.