Its hard to choose which plants to use in our display at RHS Chelsea Flower Show.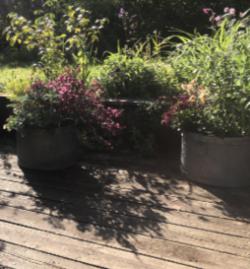 Late afternoon sun warming up the plants for Chelsea.
We have chosen about 6 or 7 plants to put into our newly purchased metal containers.
There is a huge variety of colour and shape to be considered and hopefully we have made some suitable combinations which will sit well with our Chelsea Flower Show display.
We have limited space on our stand(EA495) The stand which measures 4m x 3m will be used mainly to exhibit our range of floral based Batik paintings,greetings cards,prints and scarves.We are of course mindful of the fact that the inclusion of living plants will add vibrancy to the whole presentation and will be enjoyed by visitors to the show.