Much needed rain has refreshed the garden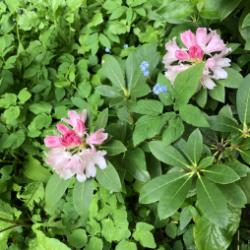 Washed and refreshed by much needed rain.
I had been putting off what I call white paint day.Before setting off for RHS Chelsea Flower show in about a weeks time the job of checking the add ons we use for our display could be put off no longer.
Through the winter various bits of shelving and display furniture have been gathering dust.So to-day things have been cleaned down and a fresh coat of paint applied.Its a task which is actually very simple and when complete does make a difference.
We want to make the Chelsea display as attractive as possible.We need to find a fair number of flowering plants now to fill the new planters we bought last week-end in Ludlow.However timing is crucial and so we shall make our choices next week just before head for London.