Springtime has arrived in style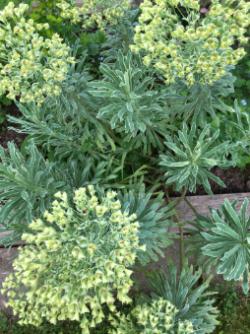 Euphorbia in Euphoric mood.
We have a sitting room with ageing furniture and a log fire.There is no TV in this room and we call it the calm room.However during the run up to the Chelsea show it becomes a temporary storeage area.A place to layout stock and some of the props we need to use as part of the stand layout.The sense of calm becomes harder to find during this time.
If the chaos becomes too much some time spent mowing the lawn and looking to see what is growing in the garden restores some sort of equilibrium.