Previous photograph shows first application of wax resist.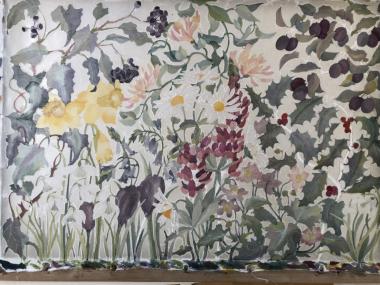 Dyes and Wax have now been applied several times.
Batik is a way of applying differently coloured dyes to fabric in such a way that one colour does not bleed into another.Simply put it requires dye to be painted onto the fabric(in this case Liberty Tana Lawn cotton)then when the dye has dryed a coating of wax can be applied to stop other dyes from mixing.The "resist" is molten wax applied with a wax pen(Tjanting) and/or a brush.
The above process is repeated for the different coloured dyes which will be used in the painting.