Some of the essential kit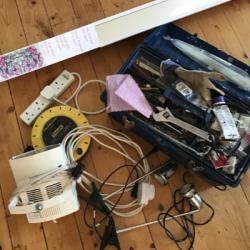 The Nuts and Bolts.
August 3rd and we are making plans for our exhibit at RHS Chelsea Flower Show (21st - 26th September - stand number EA495)
This will be our first show since 2019 so there is a lot to be sorted out. The nuts and bolts of our exhibit need to be checked (literally). Lighting equipment has to be P.A.T. tested. The toolbox was sorted and the layout of pictures, scarves, and cards was decided upon.
Paperwork filed with the RHS shows team, van hired and accommodation booked, covid test kits readied.
It will be a relief to get all of this preparatory work done and to return to Chelsea.